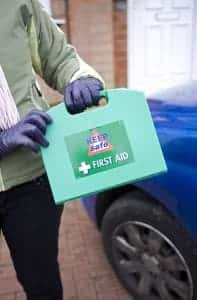 First aid kits are of uttermost important at all places, including in the car. This is basically because one can never know when an emergency is about to occur. It's is therefore important to be always equipped with the basic tools to enable one carry out first aid in case of an emergency, especially when in a car. The automotive kits can hence be used both within and around the car. Despite there being different kinds of automotive first aid kits, all of them contain the basic first aid supplies that are aimed at treating minor injuries as well as for administering other major emergencies that may occur on the road. The most popular automotive first aid kits include the following:
The 92PC Vehicle First Aid Kit:
This particular first aid kit is contained in a plastic casing with a gasket. It is mainly designed for commercial vehicles. Some of the key things included in the kit include antiseptic cleaning wipes, eye wash, tape roll, adhesive plastic bandages, cold compress, gauze roll bandage, burn relief packs, examination gloves, ibuprofen tablets, plastic tweezers, a triangular sling bandage, sterilized eye pads, nickel plated scissors, packs of antibiotic ointment, dressing pads, fingertip fabric bandages and an AMA guide booklet on first aid.
AAA Road Kit-42 Pieces:
The AAA emergency road first aid kit is ideal for all types of vehicles for the supplies contained inside can be used in any emergency situation especially in protecting everyone in the vehicle against any danger. Some of the supplies contained in this automotive first aid kit include AA batteries, cable ties, safety vest, emergency poncho, assorted fuses, duct tape, flash light, cable ties, shop cloth, reusable zipper lock-bag, a two in one screw driver, booster cable, AAA emergency car care guide and membership brochure and, the rest of the usual first aid supplies.
Auto First Aid Kit, 138PC-Large:
The first aid supplies in this automotive first aid kit are contained in a large plastic case in preparedness for any emergencies that mat occur on the road. The kit is designed to save on both time and frustrations that are quite an issue whenever emergencies on the road occur. The supplies contained in the case include non-aspirin, motion sickness and ibuprofen tablets; antiseptic, insect sting relief and alcohol cleaning pads, emergency blanket, finger splint, tape roll; fabric, gauze roll and plastic bandages, dressing pads, vinyl gloves, safety pins; cream packs, 911 call banner and a first aid guide among others.