Owning a truck means more than just having a great way to get around. A truck is the modern-day workhorse, always ready to haul your gear and transport your family. Fortunately, there are a wealth of accessories on the market to really make the most of your investment.
Accessories like LED light bars, trailer hitches, and Magnum headache racks let you do more with your pickup. With parts and information readily available, you can even perform some of these upgrades yourself. Depending on your level of expertise, or your comfort with learning on the job, do-it-yourself truck upgrades can be a fun and budget-friendly way to kit out your pickup.
One way to maximize this potential is wiring accessories, like LED lights, into your truck's auxiliary switches.
Because there are so many trucks on the road, and on the market, there is no such thing as a comprehensive how-to guide for installing LED lights with aux switches. Today let's look specifically at Ford F-Series trucks and get to know the basics of finding, using, and wiring the auxiliary switches in this popular series of pickup trucks. Next time, we'll get to know another truck manufacturer's options.
A couple things to remember:
If you are not already familiar and comfortable with performing minor wiring, take the time to either consult a pro, or learn more before you dive headfirst under the hood of your truck.
The information in this guide is intended to help you get started and not as an exhaustive how-to wiring installation manual. Truck-specific resources, including manuals, bulletins, and videos are available online to help you work on your specific truck.
All right – let's get to know the basics for wiring an LED light bar into the aux switches in an F Series pickup. Ford calls these upfitter switches, so we'll use both terms here, and you will see them both elsewhere online. Let's take a look!
What Are Auxiliary Switches?
Your truck's auxiliary switches are in-cabin switches that allow accessories, like LED light bars, to receive electrical power when either the engine is running, or the key is in the ignition and turned to aux power. (Bonus feature: If your truck has switches five and six, you can enable key-out power on those two!)
Because the switches are already wired with relays and fuses, you can easily wire accessories in and use them without a complicated wiring job. LED lights are a prime choice for your first upfitter switch installation.
Locate the Aux Switches
First things first: make sure your truck is equipped with auxiliary power switches. Not all Ford F-Series trucks have them but, since many do, there's a good chance you can proceed with wiring some LED lights into your truck. Check the dashboard or the overhead console for a bank of switches labeled AUX 1 through AUX 4 (or AUX 6). For example, in the 2020 Super Duty, they are built into the overhead console. Found them? Great! You are ready to proceed. It's time to start choosing light bars.
Choose Your LED Light Bars
What kind of light bars are you planning to install? Your choices may vary depending on whether you need lights for work, play, or both. Do you need some interior illumination, or exterior lights that can endure the elements? If you are not sure where to start when choosing LED light bars, check out these great interior and exterior options from Strobes-R-Us for some inspiration.
Remember, any time you're making changes to the lights on your F-Series truck, especially adding extras like LED light bars: check your local laws and ordinances first. Don't accidentally light up the wrong side of the law!
Get Ready to Wire
Now that you have located the upfitter switches and selected your LED light bars, you're almost ready to light things up. It's time to prepare your workspace, gather any materials you need, and get started.
Keep your truck's owner manual available while you work, whether it's a paper copy or a digital interactive guide. Keep your phone or computer available in case you need to search for additional manuals, service bulletins, or how-to videos (like this walk-through of a Super Duty truck).
Wire LED Lights to Upfitter Switches
When you're ready to begin, start by making sure you know where the LED light bar is going, so that you can run the wires correctly between the light and the upfitter switch wiring. Place your light bar where you intend to mount it to the truck – even if you don't perform the final installation right away.
The upfitter switches in your F-Series are designed to minimize the number of parts you need and the amount of wiring you actually need to do. If your truck has aux switches, they are already powered on when your ignition is on. They're also equipped with relays and fuses, so when installing a light bar, you need only to run the power wire to the upfitter switch and ground the light bar to the frame. If you haven't done this before, look for a video showing your specific truck's setup to help you put the pieces into place.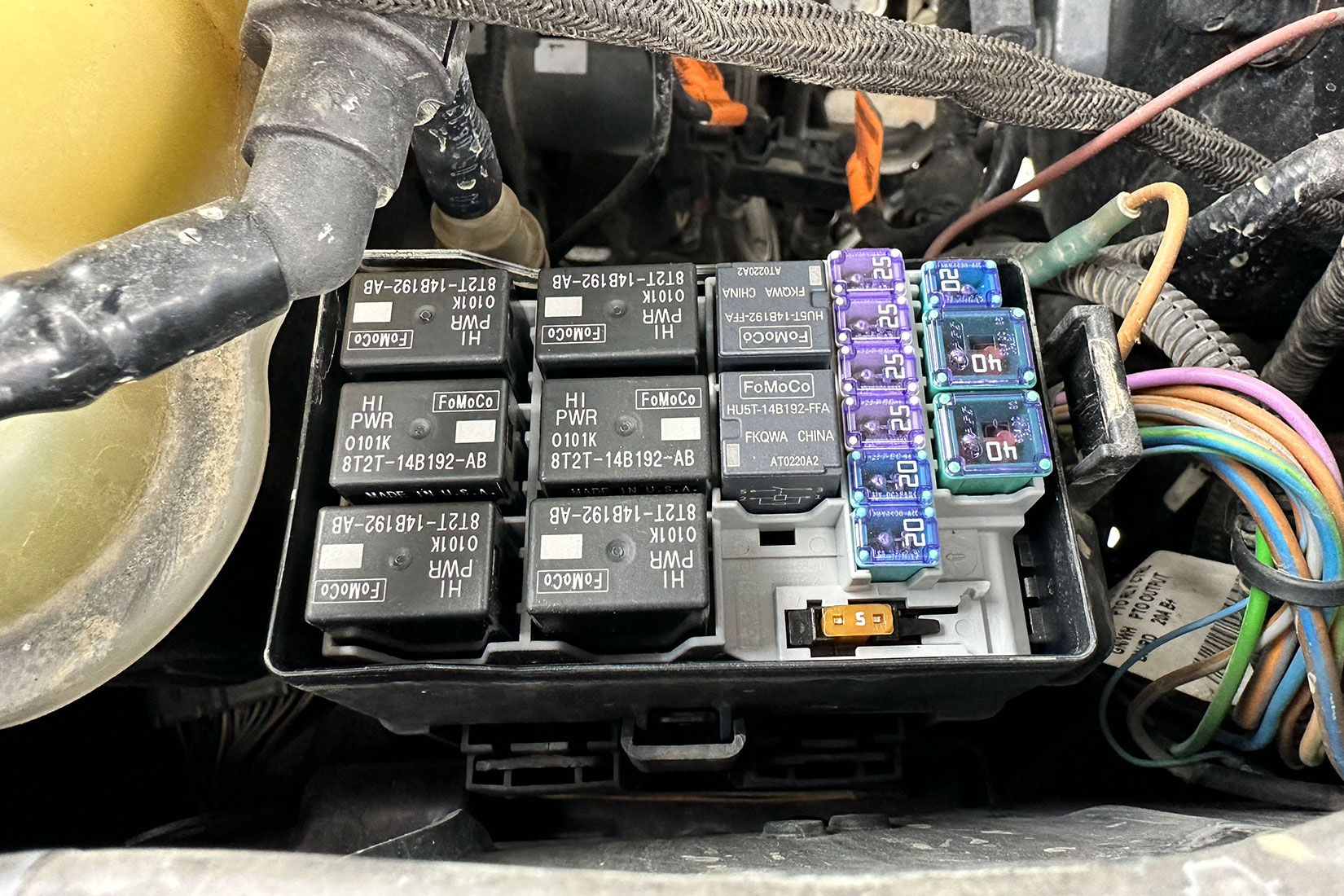 The light bar should come with a hot, or power, wire and a ground wire. Your F-Series has aux switch wires under the hood, although they may be so neatly bundled together you don't immediately see them (check that owner's manual to make sure you're looking in the correct spot). The wires are color coded, so you can be certain you're connecting the light bar to the switch you want to use to activate it.
Once you've wired the light to the wire that corresponds to the upfitter switch you want to use, don't put all the wires back into place until you've tested the light!
Fuse Box Bonus Round
Some F-Series trucks allow you to enable keyless operation of auxiliary switches 5 and 6. These switches use 40-amp fuses. To enable this feature, grab your owner's manual, pop the hood, and locate the fuse box that houses the aux switch relays and fuses. While you have the fuse box open, you may find it helpful to label the relays and fuses for future reference.
A 5-amp fuse acts as the activation mechanism; remove it and slide the jumper under the fuse from its far-left position to the right, and then re-install the fuse. Now, switches 5 and 6 will work even when the key is out of the ignition! Just remember – using auxiliary power with the key off will draw power from your truck's battery.
Light It Up
Now that your lights are installed and the wires are connected, next comes the fun part. Turn on the lights! How do they look? If everything went as planned, you now have bright, efficient LED lights connected to your F-Series truck's aux switches and can shed some light with the flip of a switch.
If you haven't already mounted the light bars in place, now is the time to secure them onto your truck. Make sure to follow the light manufacturer's instructions for installation on your vehicle for best results. Whether you're going to be lighting up the campsite, the jobsite, or any other adventure life puts in your path, you'll be glad you took the time to tap into your F-Series truck's upfitter switch capabilities.
For more lighting options across a broad range of applications, check out Strobes-R-Us, a Shyft Group brand. Shyft is driven to deliver premium solutions and customer service and we look forward to helping you keep moving forward.