Magnum builds more than just headache racks for your pickup truck. A rear cargo rack is the perfect addition to help get longer cargo from here to there. Fortunately, Magnum builds rear racks that seamlessly integrate with both our headache racks and our truck bed rails.
Rear cargo racks, also called ladder racks, provide a safe, sturdy place to secure longer cargo. Ladders, lumber, pipes or other building materials and supplies can be secured to D-ring tie-downs for easy transport. Canoes, kayaks or other outdoor adventure gear can also be anchored securely to a rear rack.
Don't limit this hard-working accessory; put it to work and make the most of your investment! Magnum makes it easy to choose and use your ladder rack.
Rear Cargo Rack Rundown
Magnum's aluminum Universal Detachable Rear Cargo Rack is our standard rack, designed to fit most trucks. The standard ladder rack features easy clamp-on installation, adjustable width, and four rack height options from 11" to 20". Rack height is based on the height from the top of the truck's bed rail or to the top of the rear rack. Built-in Glide Track allows ladder rollers, D-rings, cargo stops or other tie-downs to be quickly installed and positioned. A standard rack comes with the rack assembly (rack tube and legs), two quick adjust cargo stops, and four black powder coated installation clamps.
Already have, or plan to install, Magnum truck bed rails? Look at the Rail Kit Compatible Rear Cargo Rack instead. This rack is designed for use with Magnum bed rails and includes the rack tube, legs, two cargo stops, and four adjustable knobs to tighten the rack onto the rail kit. Our Glide Track system on the bed rails allows you to reposition the rear cargo rack anywhere along the rails – unlike fixed options that use stake pockets on your truck bed. The cargo rack's foot even includes anti-scuff HDPE for abrasion resistance on your rack's powder coating.
While you're choosing your rear cargo rack, why not also upgrade with the 72" Front Rack Extension Tube? The extension tube easily mounts to your headache rack for securing wider cargo. Like Magnum racks and rails, the extension tube is fully compatible with our Glide Track system for easy installation and placement of D-rings, cargo stops and more accessories. When used with a Low Pro headache rack, it also boosts your cargo to clear the top of the truck cab.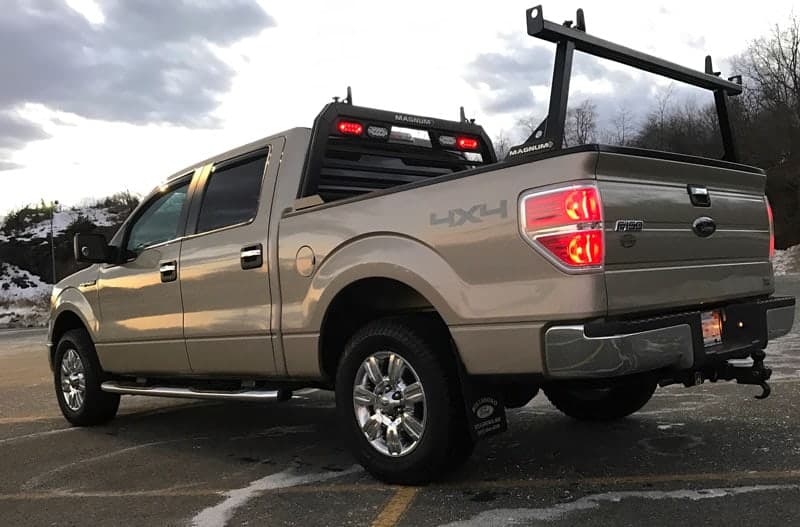 Cargo Rack Accessories
Get more out of your cargo rack with accessories by Magnum. Glide Track compatible Sliding Cargo Stops install on Magnum truck racks and slide along the rack, then tighten easily into place to retain cargo. Sold in a set of two.
Glide Track compatible D-rings let you tie down cargo and trust it's staying put. Place the sliding D-ring wherever you need it along your truck rack's Glide Track, and anchor your cargo to these durable black powder coated steel anchors. Stock up on sliding D-rings for endless cargo tie-down options wherever you need them on your Magnum racks and rails.
Don't Forget Truck Bed Rails
If you don't already have Magnum truck bed rails, consider adding those to your setup when you choose a rear cargo rack. Magnum makes it easy to get a headache rack, bed rails, ladder rack, cargo tie-downs, and lights all at once. Plus, because we build your racks and rails to fit your truck and your tonneau cover, it's a seamless choice to deck out your truck with Magnum accessories. Installing a tool box into your truck bed? Magnum offers tool box leveling spacers for a perfect installation.
Check Out a Rack Pack
For the best value, check out a Magnum Rack Pack. These packs include a Low Pro racks or Service Body rack with lights, plus a 20" rear rack, a bed rail kit, and a 72" extension tube. Racks available in standard rail, honeycomb, or mesh. To take your truck from zero to fully loaded with Magnum essentials, choose a Rack Pack with the Commander Package lighting upgrade. A Rack Pack is a great choice for upfitting multiple trucks at once for the best price on the best truck racks and rails.
For the Road Ahead
Magnum cargo racks, headache racks, truck bed rails and cargo tie-down accessories make it easy to move cargo with your truck. They also make your truck look great! Manufactured in the United States, built to fit your truck for the ultimate accessory experience, Magnum racks and rails are your best choice on the market. Learn what happy Magnum customers have to say about our products. Then learn more about the Shyft portfolio of brands, driven to deliver industry-leading solutions and innovation to help you keep moving forward.