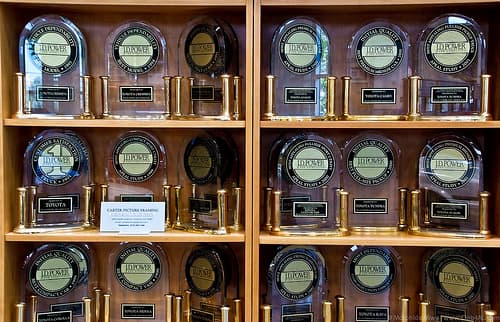 Well car enthusiasts the dependability cards are being dealt out by J. D. Power and Associates who know more about cars than most any other "tire-kicker" or "kicker" wannabe's. It's their job and somebody has to do it and a lot of sales will depend on whether J. D. gives a dealership or manufacture a "thumbs up" or a "thumbs down." That friends, could be a monolithic "ouch-that-hurts" in terms of sales.
All of the car results were a fair-fight and there were some surprises among those in the ring. Yet those who are old enough to remember that famous late actress/singer Dinah Shore who told America to: "See the USA in your Chevrolet," did just that by jumping onboard the "Chevy" Streamliner train. One major "dart" in the "Chevy bull's-eye" was when J. D. Powers awarded the three year old, high-science Chevy Volt the most reliable compact car.
Chevrolet also grabbed the 2nd place yellow ribbon with the full-size heavy duty pickup, Chevrolet Silverado HD. Then the large SUV Chevrolet Tahoe joined the team with another 2nd place, yellow ribbon finish. Next out-of-the-blue came the 2013 Chevrolet Traverse vehicle that outperformed others in its class due to its affordability, reliability, fuel efficiency, and high resale value. The Traverse was also the top safety pick award winner in 2013 for the third year in a row.
Out of the 18 most dependable cars on the road today, once again J. D. Powers and Associates had made their picks and released their annual vehicle dependability study ratings handed out in 18 categories. The 2010 Chevy Camero was ranked 17th and the 2010 Chevy Tahoe came in at number 10. However if you're looking for reliable dependability over the long-haul, the 2014 Chevrolet Impala was ranked number one out of 10 other affordable large cars. If you like numbers the Chevrolet Impala has hit the charts every year beginning in 2008 to 2013. And the overall scorecard reliability rating garnered: ***** (we're talking five stars here, folks.)
Getting back to the Chevrolet Impala, in 2014 it ranked No.1 out of 10 based on test drives, reliability and safety data. In fact the redesigned 2014 Impala was chosen because of its wealth of available features, and modern and comfortable interior for a large car. It's easy to see why the Impala impressed critics who chose to drive the 2014 Chevrolet Impala.
Photo credit: [email protected] / Foter / CC BY